Too Much Screen Time Can Hurt Your Eyes
We spend a lot of our time in the digital world. More and more Americans are turning to tablets, smartphones, and computers to stay connected. We work, live, and play online. Although this kind of connection is convenient, it can lead to digital eye strain.
Digital eye strain is a group of vision-related issues that occur after an extended use of digital screens. It's sometimes referred to as computer vision syndrome. We have the relief you seek for tired, strained eyes at Pack & Bianes Optometry Terra Nova. Contact us today to discuss your treatment options!
Causes of Digital Eye Strain
Focusing on an object or a task for a prolonged period can cause eye strain. Possible causes of eye strain include:
Driving long distances
Prolonged exposure to bright lights or glare
Spending lengthy periods in dim lighting
Exhaustion
Reading for long periods
If symptoms arise after extended digital screen use, the condition is referred to as digital eye strain. Tablets and computers are demanding on your eyesight. Poor posture, ergonomics, glare from your monitor, and viewing distance can also contribute.
Helpful Tips
Try these lifestyle changes to help manage your symptoms:
Adjust the height of your monitor to avoid stress on your neck.
Take tons of stretch breaks!
Adjust the lighting in your room to match your screen.
Reduce glare by positioning your screen away from bright lights.
Blink often to hydrate your eyes.
Experts also recommend following the 20-20-20 rule: every 20 minutes, look at something 20 feet away for 20 seconds. Frequent breaks away from your screen can help provide relief by relaxing your eyes. So walk away and grab a glass of water. Doctor's orders!
Leave Digital Eye Strain in The Dust
We're happy to report that digital eye strain doesn't have any long-term consequences to your eye health, and a few simple changes to your lifestyle can provide the relief you need.
However, some eye conditions do have similar symptoms to digital eye strain. If you follow our hints and don't notice a difference in your comfort, please contact our team at Pack & Bianes Optometry Terra Nova. We'll help you find the proper treatment.
Come See What We're About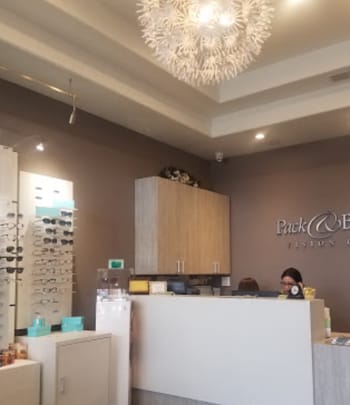 Visit Us Today
You can find us in Terra Nova Plaza, between Subway and Robeks Juice, with lots of parking right out front. You can't miss us!
374 East H Street, #1708

Chula Vista

,

CA

91910
Hours of Operation
Monday

:

8:30 AM

–

5:30 PM

Tuesday

:

8:30 AM

–

5:30 PM

Wednesday

:

8:30 AM

–

5:30 PM

Thursday

:

8:30 AM

–

5:30 PM

Friday

:

8:30 AM

–

5:30 PM

Saturday

:

Closed

Sunday

:

Closed